Dimensional Gage Calibration (2-day Version)
Overview:
Mitutoyo America's Gage Calibration course is a unique, active, educational experience designed specifically for those who plan and perform calibrations of dimensional measuring tools, gages, and instruments. This course is taught at the one of Mitutoyo America's regional showrooms, with the class size intentionally small to ensure personalized and customized instruction to meet the needs of individual students. The course combines modern calibration and quality management ideas with best practices and "how-to" calibration methods for common calibrations. The course is ideal for those operating in ISO/IEC 17025 accredited laboratories or in gage labs supporting manufacturing operations.
This Dimensional Gage Calibration course covers the most common dimensional calibrations, and will also address the essential elements, policies, and requirements of a modern gage calibration system. Woven into the hands-on experience, the course will cover calibration system standards, laboratory management, traceability, measurement uncertainty, temperature issues, and laboratory accreditation.
This course is a condensed version of Seminar 114 (3-day version) focusing on small, hand-held gages.  Only the 3-day version includes the calibration of pin and ring gages, larger gage calibration such as profile comparators, laser scanning micrometers, and repair of gages.  The 3-day version is only offered at the MAC headquarters in Aurora, IL.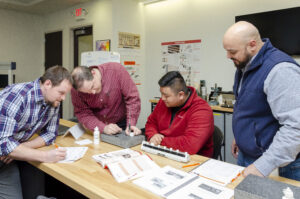 Seminar #113:  Dimensional Gage Calibration (2-day Version):
The first day of this course covers key principles that apply to all calibration situations, such as selection of calibration methods, use of appropriate reference standards, reporting of results, and traceability. Students will perform actual calibrations, learn, and practice techniques to improve accuracy of results, and understand how the general principles learned in class can be extended to the development of other calibration methods. Day two of the course moves into a series of demonstrations and hands-on practice of various calibrations, and by the end of day two, the students will have covered all the most common dimensional calibrations, including micrometers, specialty micrometers, micrometer standards, calipers, dial
 indicators, test indicators, digital indicators, and height gages. Students can be expected to leave class ready to perform many of the common dimensional calibrations, with an understanding of more advanced calibrations, and with the necessary skills to develop additional procedures to meet their needs.
Prerequisites:
With the small size class, it is important that all students have the necessary background and training to ensure they receive the full benefit of the hands-on experience. Attendees should have general knowledge of calibration systems and experience operating various types of dimensional measuring instruments.  To ensure this base knowledge, attendees will be provided, and asked to review, Mitutoyo videos and resources within Mitutoyo's eLearning platform prior to arrival.
Course Materials:
The course materials include extensive photographs and descriptions of calibration methods, as well as complete calibration procedures, worksheets, and example certificates.
Certificate:
Participants will earn an Attendance Certificate from Mitutoyo America Corporation.
Additional Credentials:
While on-site, individuals attending Seminar #113 can demonstrate additional mastery of the concepts and skills by successfully passing the Calibration of Micrometers & Calipers Level 1 and 2 Credential Exams.  The Level 1 Exam is theory-based multiple choice test, while the Level 2 Exam is a performance-based skills assessment. (Separately, the credential exams are valued at $325, but included in the cost of this course.)
Registration:
For questions or registration, please call the Education Department at 888-648-8869 (option 6). Office hours are 8:00 am to 4:00 pm Central Time. We can be reached via email at mim@mitutoyo.com. Purchase orders can be faxed to 630-978-6471.
Pricing:
The cost for the course includes all resources, calibration procedures, data collection worksheets, sample certificates, as well as the Level 1 and 2 Credential Exams (a $325 value).
| | | | |
| --- | --- | --- | --- |
| Course | No. of Days | Advance Price | Standard Price |
| Seminar 113:  Dimensional Gage Calibration (2-day Version) | 1 | $1,290 | $1,395 |
A discount of 10% is available when registering more than two students for the same course.
Comprehensive Curriculum: 
The Mitutoyo Institute of Metrology offers a number of courses to meet the educational needs of manufacturing, quality, and measurement professionals. Our courses are scheduled regularly throughout the year.
Mitutoyo and the Mitutoyo Institute of Metrology is a worldwide organization. We are proud to state that more than 200,000 engineers, technicians and managers have attended our measurement seminars over the years. If you wish to register or if you have additional questions, please contact us at 888-MITUTOYO, or email mim@mitutoyo.com. 
Cancellation Policy:
In the event that you are not able to attend a class for which you are registered, you can transfer your registration to another individual, or if you contact us at least one week prior to the start of class, you can receive a credit towards future class. No credit will be allowed in the case of no-shows and cancellations less than one week prior to the start of class. Payment in the form of credit card, purchase order or check must be received at least one week prior to the start of class. Same policy for credential testing, no refunds but if a person is no longer available to take testing, another person can take their place. Contact us one week prior for location testing. See link for detailed information. Training Terms and Conditions.
Course Cancellations:
Classes are subject to cancellation. Please confirm dates prior to making non-refundable travel arrangements. Most classes can be confirmed well in advance, and in all cases we can confirm the course at two weeks prior to the start of class. Mitutoyo America is not responsible for cancelled airfares or other expenses incurred due to cancellations. If a course is cancelled, then the option of full refund of the course fee or future credit will be offered.