To demonstrate your hands-on skills in micrometer and caliper calibration, and to earn the Level 2 Certified Credential, Mitutoyo America has developed a suite of three proficiency tests. There are two tests using outside micrometers – one small and one big – and the third test using a caliper. These tests involve measuring standards with the size kept secret from the participant – the goal is to demonstrate you have the skills to measure and calibrate correctly. You must pass all three tests to earn the Level 2 credential. As an added bonus, these tests were specifically designed as proficiency tests (PT), which are required for ISO/IEC 17025 accredited labs. For about half the price of a typical PT, you can earn valuable credentials and satisfy PT requirements at the same time.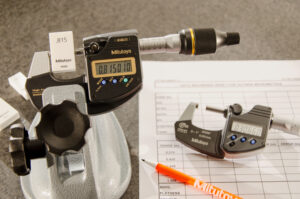 The testing is available at locations across the United States and must be ordered through the education department at Mitutoyo America. Contact us with requested locations and we will try to make it happen. If you have a group of 10 or more, we can come to you – please contact us to discuss this option further.
Many organizations have a need to demonstrate employee knowledge and skills in calibration, whether to a customer or to an outside auditor. To meet this need, Mitutoyo America offers online testing of theoretical knowledge and performance-based assessment of hands-on skills. Through this testing, you can earn Mitutoyo certified credentials in calibration.
This skills test can be included in the registration of classroom courses like EDU-111, EDU-113, and EDU-114. Participants in those courses also often sign up for the online theory test (EDU-110) to earn the Level 1 Certified Credential in the calibration of micrometers and calipers.
| Course | Standard Price |
| --- | --- |
| EDU-T210: Micrometers and Calipers Level 2 Credential – Skills Test | $250 |