Overview:
This is the measurement uncertainty course you have been searching for. Too many uncertainty courses focus on complicated math and fail to teach the critical "uncertainty thinking" that is necessary to truly succeed in the evaluation and application of measurement uncertainty. You don't need an uncertainty course where it seems the instructor is just trying to impress you with their knowledge or convince you to buy their complicated software. Over 95% of uncertainty budgets are done using basic math and a simple spreadsheet. This course focuses on the fundamentals and skips the more complicated math that scares away most people, and in practice, is hardly used.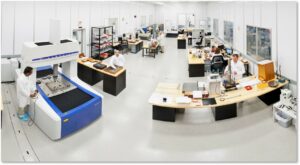 Too often uncertainty is unfortunately seen as just a means to satisfy a customer or an auditor. Measurement uncertainty is most relevant when you see how it can be applied to the daily management of your measurements and operation. Measurement uncertainty is intertwined with conformity decision rules, calibration intervals, traceability, and process development and improvement. This course will teach you how to see the application of measurement uncertainty in your organization and meet the most demanding requirements for your measuring systems.
The class size is kept intentionally small, and the course is taught using hands-on exercises and group discussions. You won't be listening to a long lecture, but instead, you will be participating and independently building uncertainty budgets from the moment the class starts. 
This course is firmly rooted in national and international standards in terminology and uncertainty. The course follows the concepts from ISO/IEC Guide 98-3 (GUM), which is the required standard for almost all uncertainty evaluations, including labs accredited to ISO/IEC 17025. This course also introduces the powerful concepts of test uncertainty (ISO 14253-5) for the evaluation of measurement uncertainty in the calibration of measuring instruments.
Most of the examples used in this course come from the dimensional metrology field, but the course contents are applicable to all types of measurements. The course will utilize many calibration examples, but students are encouraged to bring their own measurement examples to study together in class.
Topics covered in this course include:

·      Uncertainty thought process
·      Determining the best and correct uncertainty contributors
·      Fundamentals of the GUM
·      Understanding the important concept of the measurand
·      Variation in measurement and how to express it in uncertainty
·      Expressing uncertainty in reports and in scopes of accreditation
·      Uncertainty and traceability
·      Decision rules and accounting for uncertainty in conformity assessment (pass/fail decisions)
·      Uncertainty and calibration intervals
·      Uncertainty management and process improvement
Who should attend this course:
This course is designed for anyone with responsibilities to evaluate or manage measurement uncertainty. This course is highly applicable to any organization following, or accredited to, ISO/IEC 17025. This course is also applicable to in-house quality labs or inspection facilities. Quality managers and technicians, calibration engineers and technicians, metrology engineers, test engineers, or anyone involved with measurement, or managing measurement, will benefit from this course.
Prerequisites:
This course focuses on metrology and critical thinking in measurement uncertainty. However, there is math involved in evaluating measurement uncertainty. We will take the time to teach the required skills, but some understanding and comfort with basic algebra and statistics is necessary for success in this course. Students should also be experienced in measurement. For those involved with dimensional calibrations, a course such as Mitutoyo Seminar #114 is recommended prior to attending this course.
About the instructor:
This course was developed by Dr. Jim Salsbury, the General Manager of Corporate Metrology at Mitutoyo America. Dr. Salsbury is an award-winning author and researcher in measurement uncertainty. He is also the recipient of the prestigious NCSL International Education and Training Award for his outstanding contribution to the field of measurement science education and training. But the real strength that Dr. Salsbury brings to this class is his 30+ years of practical experience in measurement uncertainty, including supporting the evaluation of measurement uncertainty at Mitutoyo America, an A2LA accredited lab since 1998.
Comprehensive Curriculum: 
The Mitutoyo Institute of Metrology offers a number of courses to meet the educational needs of manufacturing, quality, and measurement professionals. Our courses are scheduled regularly throughout the year. Mitutoyo and the Mitutoyo Institute of Metrology is a worldwide organization. We are proud to state that more than 200,000 engineers, technicians and managers have attended our measurement seminars over the years. 
Certificate: 
Participants will earn an Attendance Certificate from Mitutoyo America Corporation.
Registration: 
For questions or registration, please click on the REGISTER button. Questions can be directed to mim@mitutoyo.com. 
Cancellation Policy:
In the event that you are not able to attend a class for which you are registered, you can transfer your registration to another individual, or if you contact us at least one week prior to the start of class, you can receive a credit towards future class. No credit will be allowed in the case of no-shows and cancellations less than one week prior to the start of class. Payment in the form of credit card, purchase order or check must be received at least one week prior to the start of class. Same policy for credential testing, no refunds but if a person is no longer available to take testing, another person can take their place. Contact us one week prior for location testing. See link for detailed information. Training Terms and Conditions.
Course Cancellations:
Classes are subject to cancellation. Please confirm dates prior to making non-refundable travel arrangements. Most classes can be confirmed well in advance, and in all cases we can confirm the course at two weeks prior to the start of class. Mitutoyo America is not responsible for cancelled airfares or other expenses incurred due to cancellations. If a course is cancelled, then the option of full refund of the course fee or future credit will be offered.
*Advanced pricing applies when registration is completed more than 2 weeks prior to the class starting.
*A discount of 10% is available when registering three or more students for the same course. Email mim@mitutoyo.com to inquire.
| Course | No. of Days | Advance Price | Standard Price |
| --- | --- | --- | --- |
| Seminar #210: Measurement Uncertainty – Fundamentals and Applications | 3 | $2405 | $2606 |