Mitutoyo America Corporation Introduces DP-1VA To Data Management Systems Product Line
AURORA, IL – Mitutoyo America Corporation is pleased to announce the release of the DP-1VA Digimatic data logger and printer to its data management systems product line. The DP-1VA will replace the DP-1VR.
The DP-1VA collects data from a digimatic gage, and that data can be stored, exported to software or printed.  A new USB connection allows collected data to be easily transferred from the DP-1VA to a PC. The output is HID or VCP so data can be sent directly to Excel or data collection software such as IT-Pak or MeasurLink. Digimatic 2 function allows the measurement data of high resolution gages to be output in their entirety in metric or inch.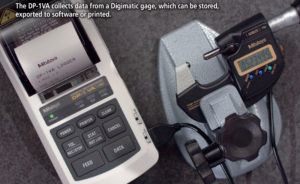 DP-1VA Features:
Supports any gage with digimatic/SPC output.
Up to 1000 pieces of data can be stored.
Timed data collection is possible at intervals of 0.25s, 1s, 5s, 30s, 1 min, 30 min or 60min.
Data can be triggered by the button on the DP-1VA, gage, cable or footswitch.
Data for each part measured can be printed on thermal paper and/or sent into Excel or SPC software thru USB.
Tolerances can be set into the unit and statistics can be calculated and printed directly from the DP-1VA. No additional software is required.
DP-1VA is a great low-cost alternative to an SPC software.