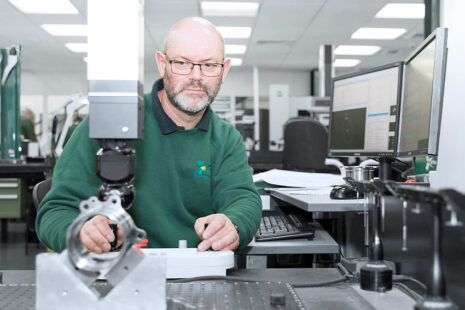 2020 marks the 40th anniversary of the establishment of the UK subsidiary of the Mitutoyo Group. From modest beginnings, Mitutoyo UK has grown to become the leading supplier of measuring equipment to British industry. To complement the company's comprehensive metrology and material testing products, Mitutoyo UK offers an extensive range of related services, including calibration, training, IT support, sub-contract measurement and the design and manufacture of bespoke measurement solutions.
The comprehensive, single-source nature of Mitutoyo UK's high-quality products and services has enabled the company to form close relationships with many UK businesses and to establish a large, extremely loyal UK customer base. One such long standing customer is Xtrac Limited. The renowned, Thatcham, Berkshire based business is an acknowledged global leader in the design and manufacture of advanced transmission systems and since its inception in 1984, Xtrac has been an enthusiastic user of Mitutoyo's products.
Xtrac supports a wide client base covering top level motorsport, including F1, Le Mans, lndyCar and rallying. In addition, the business supplies transmission systems to the High Performance Automotive sector. A company slogan of 'Quality, Performance and Reliability' provides a clear insight into Xtrac's guiding principles. To attain maximum performance, yet not finish a race is to fail. Likewise, to last the course and not triumph is equally a failure. In order to consistently achieve both performance and reliability, Xtrac administer a comprehensive, companywide quality regime. Quality permeates every aspect of the ISO 9001-2015 certified business. To meet the ever-increasing expectations of its global customer base, Xtrac's rigorous quality system is constantly developed and refined, whilst strict adherence to approved methods and practices ensure that staff at all levels understand what is expected of them.
Detailed quality records are produced and supplemented by First Article Inspection Reports and Control Plans. Customer specific quality requirements are incorporated within the company's procedures, together with specific customer standards. In addition, key performance indicators are used to maximise the contribution that individuals make to the success of the organisation.
To help ensure the efficient running of the company's quality system, Xtrac relies heavily on its wide range of Mitutoyo metrology products. Neil Warwick, Xtrac's Inspection Manager explained. "To maintain our position as the leading supplier of high performance transmissions, we operate a continuous re-investment and improvement policy that is supplemented by individual personal development plans for staff members."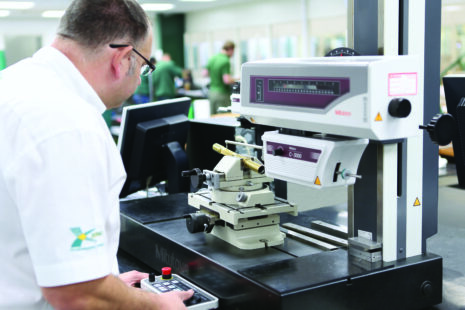 "To guarantee the delivery of premium quality transmission systems that meet design intent, in addition to boasting first-class design and manufacturing facilities, we also invest heavily in premium quality inspection aids. Although we use a few other specialised items of inspection equipment, we rely on Mitutoyo for the vast majority of our metrology needs."
"To make certain that our production personnel are able to undertake the necessary range of in-process inspection tasks and to ensure that they are capable of achieving the required levels of precision, our manufacturing staff have access to a wide range of Mitutoyo inspection equipment. Although our production facilities are kept in a pristine condition, given the proximity of machine tools and other equipment, our shop-floor represents a challenging environment for inspection equipment, although we find that Mitutoyo's robust digital gauges are ideal for performing accurate in-process checks under these conditions."
"To further guarantee the delivery of premium quality products, we perform inspection routines with the use of a wide range of advanced Mitutoyo inspection aids. For instance, we have several highly precise Mitutoyo Coordinate Measuring Machines (CMMs) in our Inspection Department. Given the demanding nature of many of our customers, we are often challenged with extremely short lead-times. In addition to using state-of-the-art machine tools that help to speed up our manufacturing output, our rapid, yet accurate Mitutoyo CNC CMMs enable us to fast-track component and assembly throughput in our busy inspection department."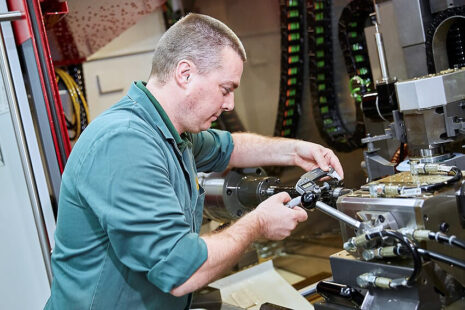 'As, over many years, our use of Mitutoyo equipment has proved so successful, now, when we have the need for a new piece of metrology equipment, I immediately pick-up Mitutoyo's catalogue, or as I call it, 'the big orange book'. As Mitutoyo's product range is so comprehensive, I can usually find the solution that I need."
"In addition to using the company's measuring equipment, as we have developed a close working relationship with the business, we also regularly make use of Mitutoyo's wide range of metrology related services, such as calibration, service and repair and when the need arises, we use the company's sub-contract measurement service."