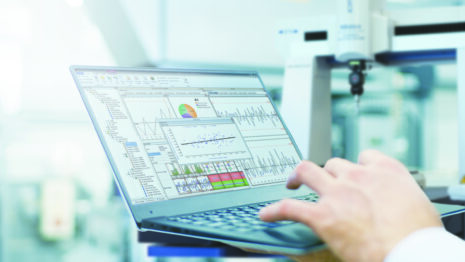 Based in Pendle in what has become known as Lancashire's 'Aerospace Valley', Merc Aerospace is a renowned precision engineering company with over forty years of experience serving the aerospace industry. Specialising in the delivery of tight-tolerance components to demanding deadlines, in small to medium volumes, the business' in-depth aerospace expertise has enabled it to attract customers from the equally demanding defence, petro-chemical and energy sectors.
Merc Aerospace's skilled workforce has access to a wide range of advanced machine tools, including three, four and five-axis milling and twin spindle mill-turn centres. The company's high-specification production plant enables the manufacture of difficult to machine aerospace and subsea materials, including nickel alloys, duplex and stainless steels, titanium and magnesium.
Given the demanding nature of the customers it serves, the AS9100 registered business administers an all-embracing quality regime. In addition to comprehensive final inspection routines being performed, the company's skilled machine operators undertake regular in-process quality checks.
Having reaped the benefits of using various modern software applications, such as factory management systems, the management of Merc Aerospace are aware of the substantial productivity and efficiency gains that are made possible by embracing today's advanced software products. The success of the use of several diverse software applications throughout the business convinced Merc Aerospace's management that the application of advanced quality management software would result in further improvements to the company's important quality function.
After considering the purchase of quality management software systems from severa
l sources, members of Merc Aerospace's management team visited one of the UK's largest aerospace OEMs and witnessed the company's use of Mitutoyo's MeasurLink software. It soon became clear to the delegation that the advanced Mitutoyo system delivered all of the features and capabilities required by Merc Aerospace. Following a subsequent in-house demonstration, Merc Aerospace placed an order with Mitutoyo UK for the company's first MeasurLink software suite.
Prompted by the early success of the original MeasurLink software, further suites were soon added. The company's latest purchase means that Merc Aerospace now use six MeasurLink software suites that are fully networked. Five suites serve measuring stations that are strategically located across the company's production departments and used by production operatives. In addition, one suite is employed collecting data from a Coordinate Measuring Machine (CMM).
In addition to having an industrial PC loaded with MeasurLink software, each shop-floor measuring station is equipped with a collection of Mitutoyo digital measuring instruments, such as micrometers, calipers, bore gauges and height gauges. To help ensure that machine operators' inspection and data acquisition tasks can be performed within machine tool cycle times, rather than use unwieldly cables, Merc Aerospace have adopted progressive wireless transmission techniques to down-load each gauge's findings to MeasurLink software.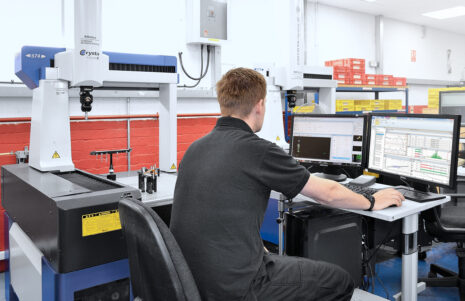 A typical routine whilst measuring a feature on a component would be, the press of an instrument's button would wirelessly send a measuring result to the software. In addition to an easy to understand graphic image, the numeric value of the feature's size would be instantly displayed on the workstation's PC. If the presented dimension had drifted from the specified nominal size, the operator would make the necessary machine adjustments. Also, as each of Merc Aerospace's suites of MeasurLink software are fully networked, all of the obtained inspection data is immediately downloaded to the company's Quality Department for analysis.
Although Merc Aerospace's previous scrap levels were relatively low, since the company wide implementation of MeasurLink software, scrap and rework levels have been further significantly reduced. Merc Aerospace Commercial Director, Richard Meade explained the company's use of Mitutoyo's MeasurLink software. "We currently employ over 50 staff and have built a team of highly skilled engineers and associated staff who produce precision parts and assemblies of exceptional quality, whilst working to the most demanding of customer specifications in a variety of metals and specialist alloys.
"A regular feature of our workload is the manufacture of complex, tightly-tolerance components, although our breadth of experience at management and shop floor level, allows us to take on all manner of engineering work. We continue to develop our reputation as a quality supplier to the highly demanding aerospace industry. Having worked in this sector for over 40 years, at the core of our outstanding reputation is a commitment to quality."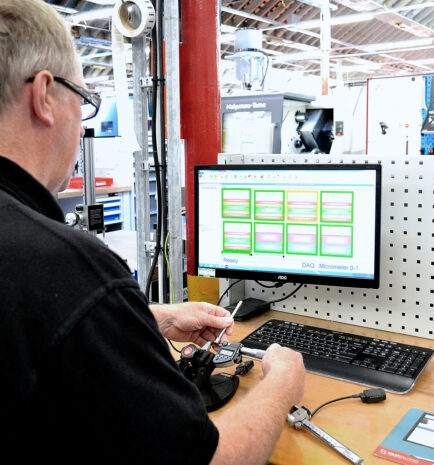 "The use of Mitutoyo's MeasurLink software allows our operators to react rapidly before components' out of tolerance situations occur by making the required machine tool corrections. Also, MeasurLink software has enabled us to develop fully integrated solutions for our quality data management system and for our important traceability and reporting functions. Now, the regular flow of useable, precise, real-time information means that we can undertake in-depth measuring data analysis and plan and develop advanced quality strategies. The nett result of the advantages gained by the use of MeasurLink software is an impressive 30% reduction in our scrap and rework levels."
As a client/server application, Mitutoyo's MeasurLink software provides users with the performance they need through distributed processing. Combined with a multi-user relational database, MeasurLink delivers a safe and organised data warehousing system making quality data available for viewing and analysis by a company's production, engineering and managerial staff.
MeasurLink is capable of linking and managing multiple 'islands' of inspection into a common database of part information, statistical data, gauge information, process, etc. Information is shared across an entire manufacturing facility. Inspection in the factory produces data for analysis, corrective action, and various reporting needs. As the backbone of users' quality efforts, MeasurLink is guaranteed to reduce production costs and increase business' profitability. MeasurLink is available in several modules offering a wide range of solutions, from data acquisition to manager views and gauge management.