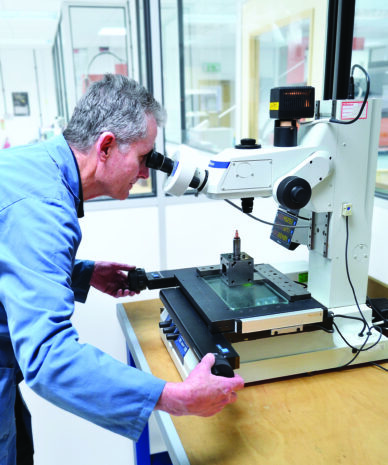 Precision Moulds & Tools Services Ltd was formed in 1991 by two partners who shared a passion for high-precision machining and a vision of the future of high quality tool making. Over the past 25 years the company's founders have used their in-depth experience, gained in some of the most advanced tool rooms throughout the world, to create what is now an internationally renowned business.
Reflecting Precision Moulds & Tools Services Ltd pursuit of the highest standards of dimensional accuracy, throughout all production processes the company's toolmakers inspect manufactured components using advanced Mitutoyo Toolmakers Measuring Microscopes that are located in dedicated, climate controlled inspection areas. In addition, on completion, each tool undergoes detailed final inspection. If requested, comprehensive inspection reports can also be created and submitted with delivered tools.
Precision Moulds & Tools Services Ltd, Sales Director Joe Boscarini explained. "As well as our ability to design and manufacture on-time and at the right price, our international reputation is based largely on the consistent, premium quality of the mould tools that we produce. The use of state-of the-art inspection technology helps to ensure levels of consistency that give our customers the confidence that replacement inserts or repeat orders will be absolutely identical to those originally supplied. To help ensure the continued quality of our ever increasing output, several years ago, we undertook a search for an easy to use, highly precise measuring technology that would allow our toolmakers to perform rapid, in-process dimensional checks at each stage of tool manufacture. After witnessing several practical demonstrations and considering other alternative systems, we decided that the Mitutoyo MF Toolmakers Measuring Microscope was the ideal metrology instrument for our needs, and our first unit was purchased."
"Not only did this multifunctional Measuring Microscope have the required accuracy specification, we were convinced that its ease of operation would mean a short operator learning curve and also enable inspection routines to be carried out quickly."
"The use of Mitutoyo's binocular stereo measuring microscopes provides us with advanced optical inspection and measuring capability. Extended depth of focus, long working distances and wide field of view minimize operator eye fatigue whilst increasing our inspection efficiency and productivity."
Initially serving the domestic connector market, the quality of Precision Moulds & Tools Services Ltd work soon attracted clients from other equally demanding industrial sectors, such as the medical, pharmaceutical, automotive and electrical, industries. The procurement of contracts for the production of single and multi-cavity plastic injection mould tools, for use in conventional, twin-shot, strip fed and overmould applications, has allowed the Stoke Mandeville, Buckinghamshire based company to grow rapidly.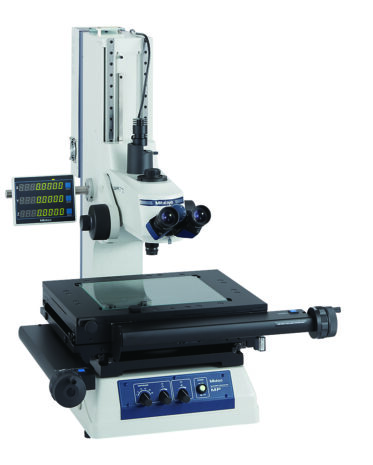 From Precision Moulds & Tools Services Ltd inception the company has employed a highly skilled workforce and has consistently invested in the best available design, production and inspection aids. This policy ensures that premium quality moulds and tools are delivered on-time and on budget and has also enabled the range of in-house services provided to be considerably expanded. The ISO 9001:2008 certified business now boasts more than 38,000 sq. ft. of purpose-built manufacturing space. In addition to closed-cell climate controlled tool manufacturing, the Stoke Mandeville facility accommodates administration functions, design & development, a dedicated climate controlled inspection facility and a mould shop that houses advanced moulding machines that are used for first-off sampling and initial batch runs. Clients are also able to deliver their own machines for closed cell tool validation.
Reflecting the international experience of the company's founders, in 2004 Precision Moulds & Tools Services Ltd opened a factory in Sri Lanka that mirrors the busy UK plant. Mindful of the excellent accuracy standards that are assured by the use of Mitutoyo Toolmakers Measuring Microscopes in the Stoke Mandeville facility, further units were purchased for the company's new venture.
Joe Boscarini continued. 'As our first Mitutoyo Toolmakers Measuring Microscope proved to be the perfect measuring instrument for ensuring the accuracy of our tools, as our business has expanded and our workload has increased we have purchased additional models and located them in strategic locations throughout our Stoke Mandeville site. Our recently purchased unit means that we now have 6 Mitutoyo Toolmakers Measuring Microscopes. In addition, mindful of the advantage these high quality inspection aids have provided in the UK and the excellent service we had received from Mitutoyo, when we established our Sri Lankan facility, we equipped it with further models."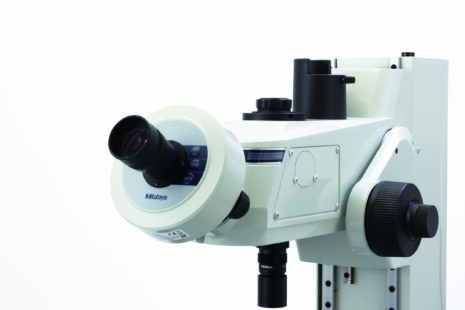 "The inherent accuracy of our Mitutoyo Microscopes and their ease of use ensures that our Toolmakers, in both company facilities, are able to achieve the highest standards of precision. The first word in our company's title illustrates the importance we place on the accuracy of our work. Our Mitutoyo Toolmakers Measuring Microscopes continue to be a vital element in our precision mission."
The Mitutoyo MF Toolmakers Measuring Microscope, as used by Precision Moulds & Tools Services Ltd, is a high power, multifunctional measuring microscope offering monocular or binocular observation with a clear, non-flare image and a wide field of view. Measuring accuracy is the highest in its class. The ML series, high-NA objectives provide a long working distance and the illumination source, reflected or transmitted, is selectable between high-intensity LED or halogen, with a variable aperture diaphragm to suppress diffraction. A quick-release mechanism allows the stage to be moved around quickly and coarse/fine feed handles on both sides allow precise focus and observation regardless of handedness. Optional eyepieces enable observation up to 2000X magnification.