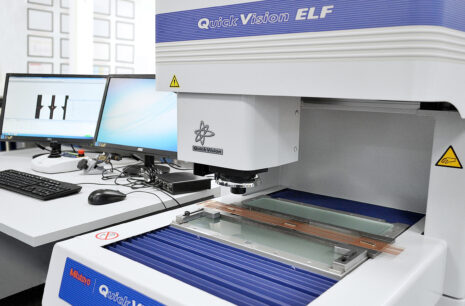 Birmingham-based C Brandauer & Co Ltd was founded more than 154-years ago and is now regarded as one of the largest independent contract presswork and stamping concerns in Europe. The company, which employs 56 people, specializes in manufacturing high-speed, precision stamped components for clients involved in a wide range of industries, including automotive, domestic goods, electronics and renewables. C Brandauer provides an all-embracing range of pressed metal components services to its global customer base, ranging from prototyping, design and in-house tool production, through to tool transfer and low volume special product manufacture.
In order to meet the rigorous demands of modern manufacturing, C Brandauer is firmly committed to continuous investment in its state-of-the-art facility, as demonstrated by the £750,000 investment in two state-of-the-art Bruderer presses and the implementation of a £400,000 Microsoft Navision MRP system. The advanced, highly productive presses and other production related purchases help satisfy growing demand and allow the production of millions of parts every month. With the aim of accommodating the company's increased production levels, a recent investment was made in an advanced 3D, CNC Vision Measuring System from Mitutoyo UK.
Robert Freeman, Quality Assurance Manager at C Brandauer, explained: "Our investments extend well beyond the acquisition of cutting-edge production technology; we put just as much resource and attention into the on-going development of our quality management systems. For example, we hold all of the major quality and environmental accreditations appropriate to our key markets and our operations are managed and benchmarked through real time data collection and strictly monitored performance indicators. This allows us to successfully export more than 75% of our products to customers in China, the EU and the United States."
"Our inspection requirement is for equipment that is highly automated, fast, accurate and repeatable. Our first purchase of a Mitutoyo CNC Vision Measuring System, made 17 years ago, satisfied all of these criteria. As the system proved to be a great success, two further Mitutoyo Systems were soon added. The excellent performance and reliability of the three machines – combined with the outstanding customer service we have enjoyed – has ensured that we now have a long standing relationship with Mitutoyo UK."
"Increase in customer volumes and new business wins have necessitated the need for further investments and we also wanted to ensure we were at the forefront of advancements in the 'measuring' field. This led to us benchmarking the latest Mitutoyo against alternative systems from other manufacturers. Following an in-depth demonstration of the Quick Vision Elf Pro, performed on a cross section of our parts, we agreed that the Mitutoyo machine was ideal for our current and future needs."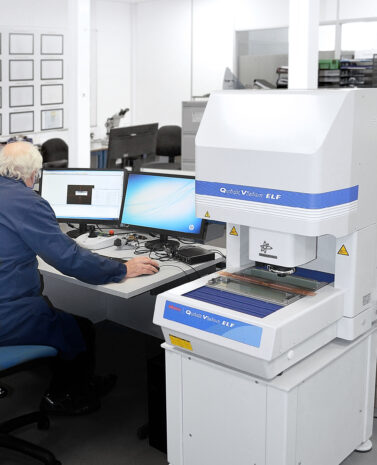 C Brandauer's quality personnel are now able to load multiple parts on to the Quick Vision Elf Pro's component support, recall the appropriate program, then instigate a rapid, fully automatic CNC measuring routine. In addition to accuracy and repeatability, the vision measuring system's impressive speed means that the company has significantly reduced previous inspection times.
Robert continued. "Many of the components we manufacture have challenging accuracy specifications and are designed to be used in demanding and high pressured environments. The precision and speed of Vision Elf Pro means that we are able to give prompt feedback to production regarding component features that are beginning to deviate from their nominal conditions and ensure there are no reject parts going to the customer. The early intervention has further reduced our already low scrap levels and helps to guarantee the continued delivery of quality components."
The Mitutoyo Quick Vision Elf Pro is an advanced 3D CNC Vision Measuring System with a resolution of 0.1 μm. It provides accuracy in the 2.3μm class, when measuring up to 100mm. The machine has a measuring range of X 250 mm, Y 200 mm and Z 200 mm and is able to accommodate multiple smaller components or a single larger part.
The popular Quick Vision Elf Pro is regarded as a highly efficient, time saving 3D CNC Vision Measuring System due to its impressive X/Y/Z axes drive speed of 200 mm/s. Programmable ring lighting provides flexibility in lighting direction, angle and intensity, regardless of the inclination of the workpiece surface. This advanced feature enables maximum surface contrast to be achieved and best imaging resolution and accuracy to be realized.
Fine control of obliquity and direction provides optimal illumination for measurement. Obliquity can be arbitrarily set in the range from 30° to 80°. This type of illumination is most effective for enhancing the edges of inclined surfaces or very small steps. Illumination can be controlled independently in every direction.
The Mitutoyo Quick Vision Elf Pro's programmable Power Turret (PPT) offers a three tube lens selection to provide three magnifications with the same objective lens. Replacement of objective lenses allows a wide magnification range to support a wide variety of measurements.