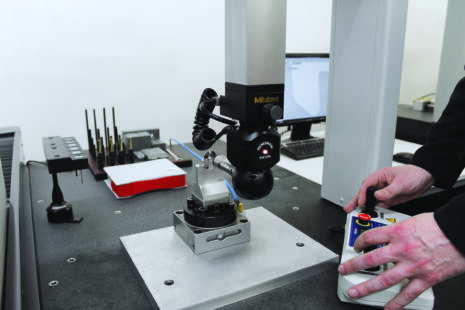 Located in a purpose-built manufacturing facility close to the M1 in Northamptonshire, Salcey Precision Engineering has earned a reputation for being able to undertake the more difficult precision machining work that is shunned by less able businesses. Salcey enjoys enduring relationships with a long list of customers involved in highly demanding technical sectors and has a long history of providing high-quality precision machined parts to the UK Motorsport, Aerospace and Medical Industries.
To allow the efficient production of ever more complex components with demanding dimensional tolerances, and to enable the company to keep pace with growing demands for its services, Salcey Precision makes regular investments in the best available machine tools. As a recent such capital investment substantially increased the company's machining capacity and had the potential to place a strain on the company's important inspection function, plans were made to procure a new Coordinate Measuring Machine (CMM).
Salcey Precision Engineering, Quality Manager, Dave Hammond explained "Given the nature of our customer base and the kind of complex, high-precision components we manufacture, quality is all-important to all at Salcey Precision." Our substantial investments in the latest manual and CNC controlled measurement equipment has not only enabled us to precisely inspect our own output, but to also offer comprehensive, third-party subcontract services to other manufacturers for the accurate measurement of intricate and high tolerance machined parts. To illustrate the importance we have always placed on Quality, in 1989 Salcey Precision was the first company in Northamptonshire to achieve the BS 5750 (now BS EN ISO9001:2008) approval."
"To enable the efficient production of precise components, over the last few years we have invested heavily in the latest German Index Multi-Spindle machine centres, in Swiss made 5-Axis machining centres and in sliding head lathes. More recently we have invested in three Staubli Robots to automate 5 axis machine loading and to support high volume production. Throughout each stage of our expansion and purchase of further manufacturing plant we have proportionally increased our range of high-precision inspection equipment installed in our air conditioned inspection laboratory."
"The recent further increase in our output created the need for an additional high-specification CNC CMM that could keep pace with the volumes of high-precision parts we are now manufacturing. As our previously purchased
Mitutoyo CMMs had proven to be very accurate, easy to operate and able to perform fast inspection routines, and given the excellent levels of service we have received from the company, we again contacted Mitutoyo UK. We found the answer to our need to increase our inspection throughput in another Mitutoyo CRYSTA-Apex S CMM with a resolution of 0.1 μm and a capacity of X 505 mm, Y 705 mm, Z 405 mm. The CMM was installed in a single day, and following calibration the following day, we were able to use the machine."
In addition to being operated by Salcey Precision's dedicated quality staff to perform thorough final inspection routines, the company's Mitutoyo CRYSTAApex S CMMs are used by skilled CNC production operators, who have been trained on, and have access to the CMMs. At the beginning of a machining run, staff are able to load first off components onto a dedicated CMM fixture recall the relevant part program and to confirm the component's adherence to specification before beginning a production run. CNC operators also use the company's Mitutoyo CMMs to perform occasional in-process component checks.
Dave Hammond added. "Our newly installed Mitutoyo's CRYSTA-Apex S CMM has completely removed the
possibility of hold-ups in our inspection department. In addition to being invaluable for the final inspection routines performed by our quality staff, our Mitutoyo CMMs aid the efficiency of our machining operations. As our production personnel are able to quickly place a part onto a secure fixture, recall a pre-written program and instigate an automatic inspection routine, production downtime is reduced and scrap levels are minimised."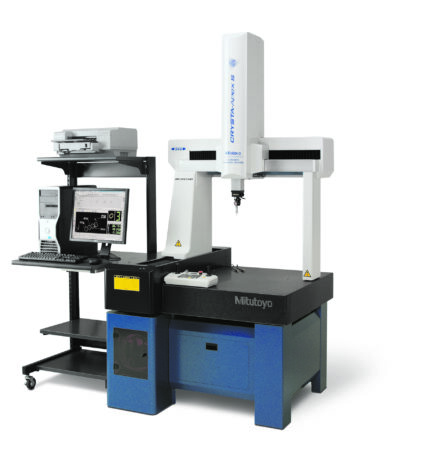 Mitutoyo's CRYSTA-Apex S, represents a flexible CMM that is capable of making very accurate measurements at high speed. Users regard the advanced machine as a future-proof investment as its probe systems and software can easily be changed, or added to the system whenever required. In short, CRYSTA-Apex S provides precision, speed and flexibility.
The advanced CMM is based on proven construction principles that have been optimized to reduce adverse dynamic effects within the system. Dedicated software algorithms guarantee high levels of accuracy by eliminating even the most miniscule of geometrical imperfections in the machines' guideways. The CRYSTAApex S is equipped with a brand new controller, the UC-400 allows high speed measurements and movements with impressive accuracies .increasing user's throughputs and helping them to save costs. Increasing its flexibility, the CRYSTA-Apex S is able to use a wide range of measuring probes, such as touch-trigger probes, canning probes, vision probes and laser scanners.
The typical home of the CRYSTA-Apex S is the measuring room, although, due to easy connectivity to conveyors and robot loading systems the machine is also a perfect fit for automated measurement applications. Optional, active vibration damping makes it possible to locate the CMM in the vicinity of a production line, enabling overall measuring efficiencies to be increased by reducing the time taken to transport workpieces to and from the machine. An integrated thermal compensation system enables accurate measurement at temperatures varying between 16 and 26°C by automatically calculating and presenting measurement results as if they were made at the standard reference temperature (20°C).
Mitutoyo's impressive hardware is backed up by comprehensive analysis software, enabling the interpretation of measurement results in the timely manner so essential for keeping up with today's fast paced production.