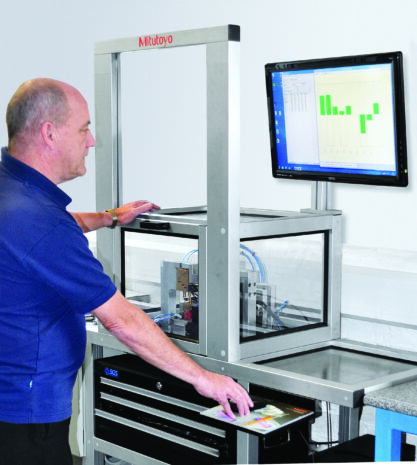 Based in the Aerospace Park at Prestwick Airport, Ayrshire, Scotland, Precision Tooling Services (PTS) provide an extensive range of first-class machining and manufacturing services to a wide variety of demanding sectors, including the Aerospace, Automotive, Renewables and Oil & Gas industries.
As part of the Glen Foundry Group, PTS offer an all-inclusive service, parts can be machined from solid or alternatively, using Group facilities, investment or sand cast. PTS currently employs 60 staff, who have access to a wide range of first-class manufacturing plant. In addition to conventional machine tools the company boasts a wide range of highly efficient CNC machines, including horizontal and bar-feed lathes, vertical and horizontal machining centres and grinding machines. A high volume production line facilitates the efficient manufacture of a range of multiple batch components such as turbocharger nozzle rings, actuator rods and bushes for the same blue-chip automotive customer.
To enable the delivery of the required high volumes of actuator rods to its American customer, on time, on budget and to the highest standard of quality, the company has made considerable investments in both production and inspection equipment.
The recent purchase of a bespoke gauging machine is now helping to ensure the continued quality of PTS produced actuator rods. In addition to providing enhanced precision, the advanced system has aided the company's efficiency by slashing the time taken to inspect components' critical features.
"Many of our products are exported to the USA to be built into turbochargers used in the truck industry. Castings are machined through various production cells and controlled to the high quality standards demanded by automotive assembly plants." explained David Reid, PTS Inspection Manager.
"With a view to guaranteeing the quality and speeding-up the throughput of the high volumes of actuator rods passing through our busy inspection department, we recently supplied part drawings to Mitutoyo UK and asked for suggestions. Given the sheer volume of actuator rods to be inspected, a bespoke gauging system was proposed."
"Following a period of consultation with Mitutoyo Gauging Technology, the Mitutoyo UK department responsible for special projects, an ingenious design evolved that was flexible enough to allow 3 different classes of actuator rods to be rapidly and very accurately measured."
Mitutoyo Gauging Technology (MGT) is responsible for providing a service to customers to propose, design, develop, test and install dedicated measuring solutions to meet customer's specific requirements. To ensure the delivery of systems that are ideally suited to each user's needs, MGT is able to make use of a full range of standard Mitutoyo products and integrate them with electric, pneumatic, hydraulic, optical and computing ancillaries. Also, when required, MGT is able to supply either standard Mitutoyo inspection software or software tailored to the task in hand.
Having fully understood Precision Tooling Services' brief, the expert staff of MGT suggested a system that would meet all of the company's original demands, and to make several useful suggestions that further enhanced the project's original remit. The result was the design, manufacture and delivery of an ingenious, pneumatically activated, highly automated gauging machine. The resulting system, involving the use of 13 very accurate transducers, is able to precisely and rapidly measure 3 critical actuator rod features with 5μm tolerances, either individually or in a single action.
As 3 different size actuator rods need to be inspected, MGT supplied a dedicated, interchangeable holder for each class of product. When changing the system from use on one actuator rod to another, the operators simply inserts the relevant holder and calibrates the entire system with the use of the supplied master.
The newly installed system includes an industrial computer loaded with Mitutoyo's renowned Measurlink software. The software is preprogramed with the nominal size and upper and lower control limits of the relevant features of each of the 3 actuator rods. Now, the machine's operator is able to quickly recall the appropriate program for the batch of components to be measured, calibrate the system to the relevant master and begin a rapid measuring routine. In addition to displaying its findings in a numeric format, the software presents an easy to understand color graphic, on-screen display and full statistical process control (SPC) results.
David Reid continued. "Quality is of paramount importance to Precision Tooling Services, we are ISO/TS 16949:2009, AS9100C and ISO 9001:2008 approved and the high standards we adhere to is the foundation that our business and reputation was built on."
"We recognize that a genuine commitment to, and regular investment in quality, is essential and we ensure that all production processes, inspection and testing procedures are closely controlled and fully documented."
"The replacement of an older, manual, less efficient measuring fixture with our new, highly-automated Mitutoyo system has significantly improved our precision capability and considerably enhanced our speed of actuator rod inspection. Also, the use of Mitutoyo's Measurlink software now delivers better-quality and faster feed-back to our production facilities and provides a superior reporting function with detailed statistics for our customer."