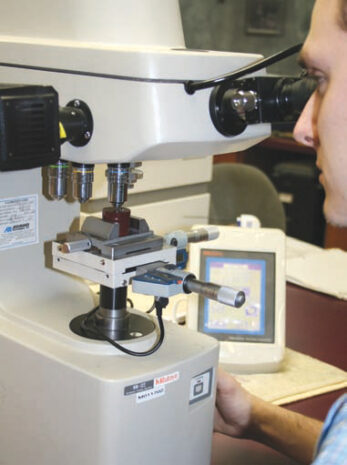 ATRONA Material Testing Laboratories, Inc. (www.atrona.com) located in Machesney Park, a suburb of Rockford, Illinois, provides metallurgical and materials analysis and related engineering services.
Atrona is accredited internationally to ISO/IEC 17025 standards ANSI/NCSL Z540 and is fully compliant with ISO 9001:2000. Atif "Ott" Odeh, President and Principal Metallurgist, together with a staff of eight metallurgists, engineers and technicians serve a diverse customer base ranging from tier-one automotive, aerospace and military manufacturers, to gear- and other metal-cutters and mills and foundries, as well as governmental and educational institutions. The lab offers a full line of testing services from failure analysis, hardness testing and scanning electron microscopy, to mechanical testing, reverse engineering and even expert witness services. 
"Projects come in from around the world." explains Odeh, "Domestic manufacturers specifying overseas production of products destined to be sold in the US generally require metallurgical testing to US standards. That's how test articles come to us from Europe, India, China, and Brazil and so on."
Demand drives focus on hardness testing productivity
Though it does not give a direct measurement of specific properties beyond resistance to plastic deformation by penetration, hardness testing is a good analog for resistance to bending and abrasion, as well as for material strength and toughness. Hardness testing is also relatively quick, easy and economical to perform.
Hardness testing can be performed alone or as part of failure analysis or other testing routines such as heat treat certification which makes hardness the most frequent type of test performed by Atrona.
Productivity strategy:  training, instruments, certification
In the firm's early days, Odeh conducted hard-ness testing himself, but demand for the testing outstripped time available. Odeh explained, "We established a hardness testing training routine, the effectiveness of which is verified by certification. That, together with utilization of the right test equipment, ensures needed productivity, whether it's me or staff specialists performing tests." 
Training hard
Every member of ATRONA's staff is certified to Level 2 Hardness Testing; this enables verification from one operator to the next. Training, performed by Odeh, includes theory of hardness testing and heat treating, scales and indenters, and specimen prep. ATRONA also provides hardness testing training seminars for its customers' operators and technicians.
Instrument design impacts productivity
Instruments are another area where ATRONA achieves gains in testing productivity.  Odeh emphasized, "The design of lab equipment greatly impacts output. As a recent example, a domestic off-highway manufacturer required hardness testing on thirty gears just in from China.  We needed to test the 8-inch OD and 3-inch bore of each gear.  But, these were prototypes which required non-destructive testing because they had to be returned, intact, so the customer could begin immediate in-house mechanical functionality testing." Odeh continued, "The gears could not be sectioned, but that didn't matter since we were using a Mitutoyo Rockwell/Brinell bench model to test for Rockwell C-Scale. The hardness tester has a specially designed goose-neck enabling it to access the bore ID directly, eliminating the need for sectioning. And it was fast; we tested all thirty gears in a few hours!"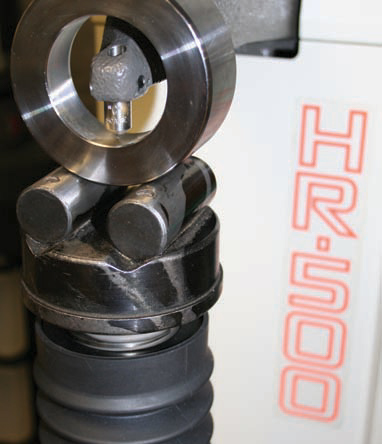 Citing another example of the impact of instrument design on hardness testing performance, Odeh related, "For micro-hardness testing, we use a Mitutoyo micro-hardness testing machine. Operation is incredibly simple. It uses an LCD touch-screen to select indentation value, type of indenter, indentation force and tolerance judgment. And, the micro-hardness machine prints out measurements in formats ready to provide to the client. That means we no longer have to hand-transcribe results into a written report. That's faster, and opportunities to miscopy something, or to for-get to write something down are eliminated, as is the chance to misidentify which samples go with what results."   
Commenting on the process that resulted in the Mitutoyo instrument purchases, Odeh explains, "We conducted a survey to find the most accurate benchtop hardness testers that would also be easy to train on. We looked at the major makers to assess their hardware, software and product support. The two aforementioned machines fit the bill so we asked our Mitutoyo distributor for a demo. These machines proved real intuitive to use and it wasn't long before everyone conducting hardness testing was proficient on them. The Mitutoyos have been in constant use for four years and have proven bullet proof."
Proficiency efficiency
Like most labs that work with the government or major aerospace, automotive and similar companies, ATRONA is required by those bodies to be accredited to international ISO/IEC 17025 lab accreditation standards and ANSI/NCSL Z2540 for test methods and proficiency.  Within that standard, there exists inter-laboratory proficiency testing which compares participating labs to their peers, nationally.
Inter-laboratory proficiency is conducted by Collaborative Testing Services, Inc., Sterling, Virginia, which forwards test control samples to participating labs on a quarterly basis. Remarking on the procedure, Odeh says, "Assuming that the sample blocks supplied by Collaborative Testing are absolutely homogeneous and uniform, and knowing that our results are scored against Institute standards, what variables can throw off the score? Well, basically, you've got to get three things right. First, there's the operator's technique in cleaning, polishing, fixturing and in instrument operation.  Next, the measuring machines' accuracy must be right on vs. Collaborative calibration.  Finally, the reporting must be accurate. Well, we regularly score within the top five percent of labs nationally, which is a testimony to our technicians' skill, and also to the extreme accuracy and report-out capabilities of our Mitutoyo hardness and micro-hardness machines."
Brinell testing
With this method, an indentation is made, typically with a 10mm hardened steel ball indenter.  The diameter of the indentation is related to material hardness.  The process consists of applying a constant load to the indenter: 500 kg. For non-ferrous such as aluminum and 3,000 kg. for ferrous.  The load is typically held 15 seconds for ferrous, 20 seconds for non-ferrous.  The indenter must be perpendicular to the measured surface which should be prepared smooth and flat so that close to a perfect circle is indented.  Two diameter measurements must be taken 90°apart and averaged, however both measurements must be within ± 0.5mm of each other for a valid test.
Rockwell superficial hardness testing
This method indents the test material with a diamond cone or hardened steel ball.  First, a "minor" load, usually 3 kg., forces the indenter into the test material (Fig. 1).  The indenter move into the material until an equilibrium is reached; an indicator follows the movement and sets a datum point at the equilibrium depth.  Next, with the minor load still applied an additional "major" load, is applied with a resulting increase in penetration (Fig. 2).  When equilibrium is again reached, the major load is removed with the minor load is still being maintained.   Removing the major load allows a partial recovery, reducing the depth of penetration (Fig. 3).  The permanent increase in depth of penetration, e, resulting from the application and removal of the major load is used to calculate the Rockwell Superficial hardness number.
Vickers and Knoop testing & Microhardness testing
The Vickers hardness test method consists of indenting the test material with a diamond indenter that takes form of a right pyramid with a square base with an angle of 136 degrees between opposite faces.  The indenter is subjected to a load of 1 to 100 kg. normally applied for 10 to 15 seconds.  After removal of the load, the two diagonals of the resulting indentation left in the surface of the material are measured using a microscope, and their average calculated. Next, the area of the sloping surface of the indentation is calculated. The Vickers hardness is the quotient obtained by dividing the kg load by the square mm area of indentation. Knoop hardness testing is similar in principal to Vickers, but uses a rhombic-based pyramidal diamond to produce an elongated indentation.  It uses forces of from 10g to 1 kg. Knoop and Vickers indentation techniques are often used for Micro-hardness testing since they can produce results at forces of < 1 kg. Micro-hardness testing is capable of certifying carburizing, nitriding, carbonitriding, nitrocarburizing and induction case hardening without penetrating the case.