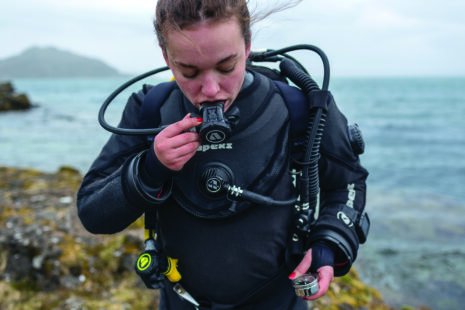 In the mid1970s two enterprising friends decided to combine their joint passion for diving and their knowledge of precision-engineering. Working at first in an archetypical location that has spawned some of the world's most successful business – a small domestic garage – the friends set about creating what have become some of the most respected diving regulators available.
Today the name Apeks – derived from a combination of letters from the founders' names, Ken Smith Ainscough and Eric Partington – has become a by-word for high-quality diving regulators. The company's early spirit of precision-engineering and innovation continues, still based in the North of England, Apeks now operates from an impressive, purpose-built, design and manufacturing facility in Blackburn, Lancashire.
Every element of Apeks' regulators is designed and manufactured in-house. This remarkable level of autonomy gives the company total control over all of its R&D, production and quality functions and ensures that each of Apeks' regulators adhere precisely to design intent. Given the vital function the company's diving regulators perform – reducing breathing gas to an ambient pressure and delivering it to the diver – absolute reliability is of paramount importance. Therefore, Apeks regulator's quality is assured by the painstaking in-process checks that are made at each stage of manufacture and also by the comprehensive final inspection routines the company's products undergo prior to dispatch.
Apeks' rigorous procedures comply with the highest standards under the European Quality Assurance System BS EN ISO 9001. In addition, the performance of the company's diving regulators has been tested by the world's leading authorities and they were the first such products to pass EN 250 and to be awarded the coveted CE mark.
The mainstay of Apeks' quality regime is its assortment of Mitutoyo profile projectors that are strategically situated throughout the company's production facility and also in its QC department. As ever growing global demand for Apeks' regulators had resulted in increased levels of production, the need for an additional profile projector recently led to the purchase of an advanced Mitutoyo PJA3010F-200 profile projector. 
The company's new vertical profile projector has a 200 x 100mm XY range and a 380mm x 250mm table with built-in linear scales. The projector's easy-to-read digital counters are located near its 315mm diameter projection screen, whilst an accurate digital angle display facility eliminates the need to perform complex calculations.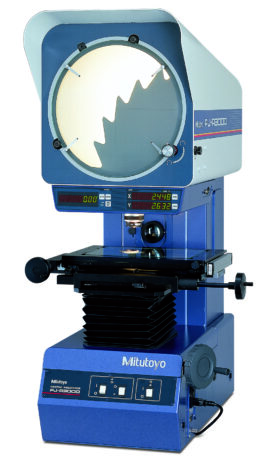 The inspection data gathered by Apeks' assortment of Mitutoyo profile projectors is downloaded to Mitutoyo's MeasurLink software via the projectors' RS 232C outputs. MeasurLink links and manages the measuring results generated by Apeks' profile projectors into a common database of part information and statistical data. This data is shared across Apeks' entire manufacturing facility and is used to prompt corrective actions, for analysis purposes and for various reporting functions. The feature rich, yet easy to use software provides Apeks with a safe and organised data warehousing system making quality related data available for viewing and examination by the company's production, engineering and managerial staff.
Apeks Quality Manager, Simon Mercer explained. "Reflecting our commitment to safety, our investment in research and development and also our strict quality control regime, Apeks products consistently top independent performance tests throughout the world. The fact that we have total control over every aspect of our manufacturing processes and quality control systems helps to make Apeks regulators the industry benchmark for quality and performance."
"Although we use a range of advanced material testing and inspection aids, we regard our collection of Mitutoyo profile projectors as our inspection 'work-horses'. Our quality control staff use our profile projectors for tasks such as making regular in-process quality checks and for final inspection routines. In addition, our machine setters use them for duties such as checking the accuracy of first-off components before our machine operators continue a production run."
"Our Mitutoyo profile projectors are used to project the magnified silhouettes of our parts under inspection onto the projectors' screens. This enables the dimensions and geometry of the parts under inspection to be precisely compared against pre-set tolerance limits. As our optical projectors are so easy to use and provide the levels of accuracy that we need, we ensure that our staff are skilled in their use."
"In addition to having the capacity and the precision specification to handle our accurate components, it helps that our Mitutoyo projectors use non-contact inspection techniques. This is particularly useful when we are measuring components made from plastics, rubber and other deformable materials."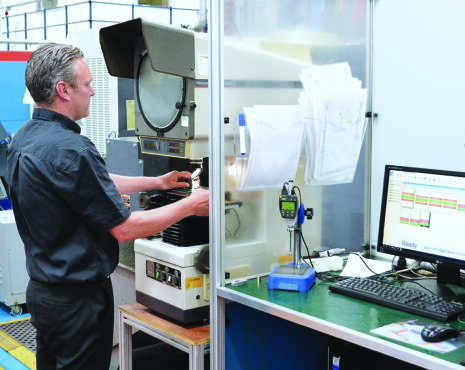 "As our projectors are able to instantly communicate their findings via Mitutoyo's MeasurLink software to a common database, it helps us to quickly intervene when component features drift from nominal conditions. As the use of our Mitutoyo optical projectors and MeasurLink software has allowed us to refine our systems and reduce the time between the production of components and their inspection, we have been able to further reduce our already impressive scrap and rework levels."
As is the world's leading manufacturer of precision measuring equipment, Mitutoyo offer a range of innovative profile projectors that are available for assessing many types of workpiece. Profile projection techniques are particularly useful where a non-contact measurement method is deemed the most appropriate inspection approach. Each Mitutoyo instrument represents an excellent investment in terms of productivity, versatility, quality of construction and service support. Mitutoyo's latest generation of profile projectors feature a range of cutting-edge technologies, such as advanced digital read-outs and comprehensive analysis software, that provide excellent accuracy, functionality and ease of use.