Mitutoyo America and Innovative Polishing Systems, Inc., Stuart, Florida, recently collaborated on development of an instrument capable of accurately and easily measuring the depth of scratches in glass. Innovative Polishing Systems' business is to polish-out scratches in the repair of high-value glass typically found in architectural, auto, marine and aerospace applications. If the glass cannot be restored, it must be discarded.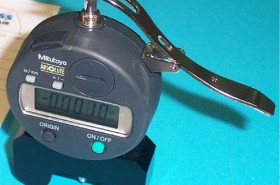 Polishing is feasible only if the scratch is not too deep, generally no more than 0.002". So having good data on scratch depth is critical in determining the course of remedial action. As a result, Innovative Polishing Systems decided it would be beneficial to replace traditional, imprecise "manual" methods of determining scratch depth (feeling with a finger nail, or by visual comparison of the damage to sample sheets displaying scratches of known depth) with an instrument capable of repeatability and high-accuracy.
Innovative Polishing Systems contacted Mitutoyo and together, a new instrument was developed integrating a Mitutoyo IDS Digimatic® dial indicator with a radiused-foot frame enabling use with curved or flat glass surfaces. A custom, needle-like probe was also developed – sized and shaped such that the 150g force of the indicator plunger is sufficient to ensure the probe bottoms out in a scratch.
The new instrument proved to provide robust information of glass scratch depth, enabling a solid GO/NO GO decision on polishing. Additional benefits of the device include facilitation of job estimating, improved documentation and easier training – all of which contribute to Innovative Polishing Systems' drive to establish best practices.